Class description
Reformer
Reformer classes are 45 minutes and a fantastic way to improve strength and flexibility whilst having fun. Using the Pilates Reformer machine you will work on balance, alignment, core strength and muscle tone. The Reformer machine adjusts to suit your individual strength and flexibility. Within a supervised group class of no more than 8 people, you'll be guided through a varied routine every session. Some reformer classes are not suitable for pregnancy or injury, please inquire if unsure.
Reformer Aligned
This class is perfect if you are a beginner to Pilates Reformer or would like to focus and work on your technique. It is a slower paced class and is suitable for all levels of fitness including beginners and pre/postnatal.
Reformer FIT
Reformer FIT classes use the Pilates Reformer machines, combining cardio intervals to get your heart pumping while you balance, strengthen, lengthen, tone and stretch yourself. A challenging and engaging class!
Reformer-Strength
A 45 minute class using Pilates Reformers machines. This class is suitable if you have a regular pilates reformer practice and is suitable for an intermediate to advanced level of fitness particularly if you are looking to increase muscle strength, cardio fitness and core strength.
Reformer CIRCUIT
This class is 45 minutes long and uses a variety of equipment such as fitballs, exo chairs, pilates rings, weights, foam roller, resistant bands and reformer machines. This class is for all level of fitness including during pregnancy.
Pilates MAT
In this class we use various small Pilates equipment such as the Pilates circle, fit-ball, hand weights, foam rollers and resistant bands. A core engaging class with variation and mindful muscle connection, suitable for all levels and abilities. You will strengthen your core, improve flexibility, develop better balance and increase fitness.
Pilates Radiant (heated)
Radiant Pilates promises to tone and sculpt your body. Done in a heated room with some elements of cardio, this 45 minutes class will improve your core strength and fitness levels. A challenging class designed for those with a good level of fitness and Pilates experience. This class is not suitable for pregnant women.
Yin Yoga (sometimes heated)
This class is a slow-paced style of Yoga with postures held for longer periods of time to work deep into the layers of connective tissue. The heated space allows muscle to warm and become more receptive to lengthening and relaxing. It is a fantastic way to improve circulation, flexibility, joint mobility, relieve tension and calm the mind. Suitable for all levels of fitness.
Yoga Flow (sometimes heated)
This 60 minute class is sure to energise your mind and body. It combines the ancient practice of flow that will take you through a series of postures that flow from one asana (posture) to another.
You will be guided through an inhale and exhale pattern for each asana. A perfect class if you are looking to strengthen and tone the body while cultivating strong mental focus and presence.
Flow is sometimes also called Vinyasa which means "breath-synchronised movement."
Private Session
We offer private sessions for those who have injuries and are wanting to rehabilitate, advance or perfect their Pilates or yoga repertoire. These classes can be either on your own or you can bring one other person and split the fees. The total cost is $95 for 60min or $75 for 45min. A 24hr cancellation notice period is required to avoid forfeiting the class fee. Email us or call 03 5420 7778 if you would like a booking. For private Nutrition consultations, please click here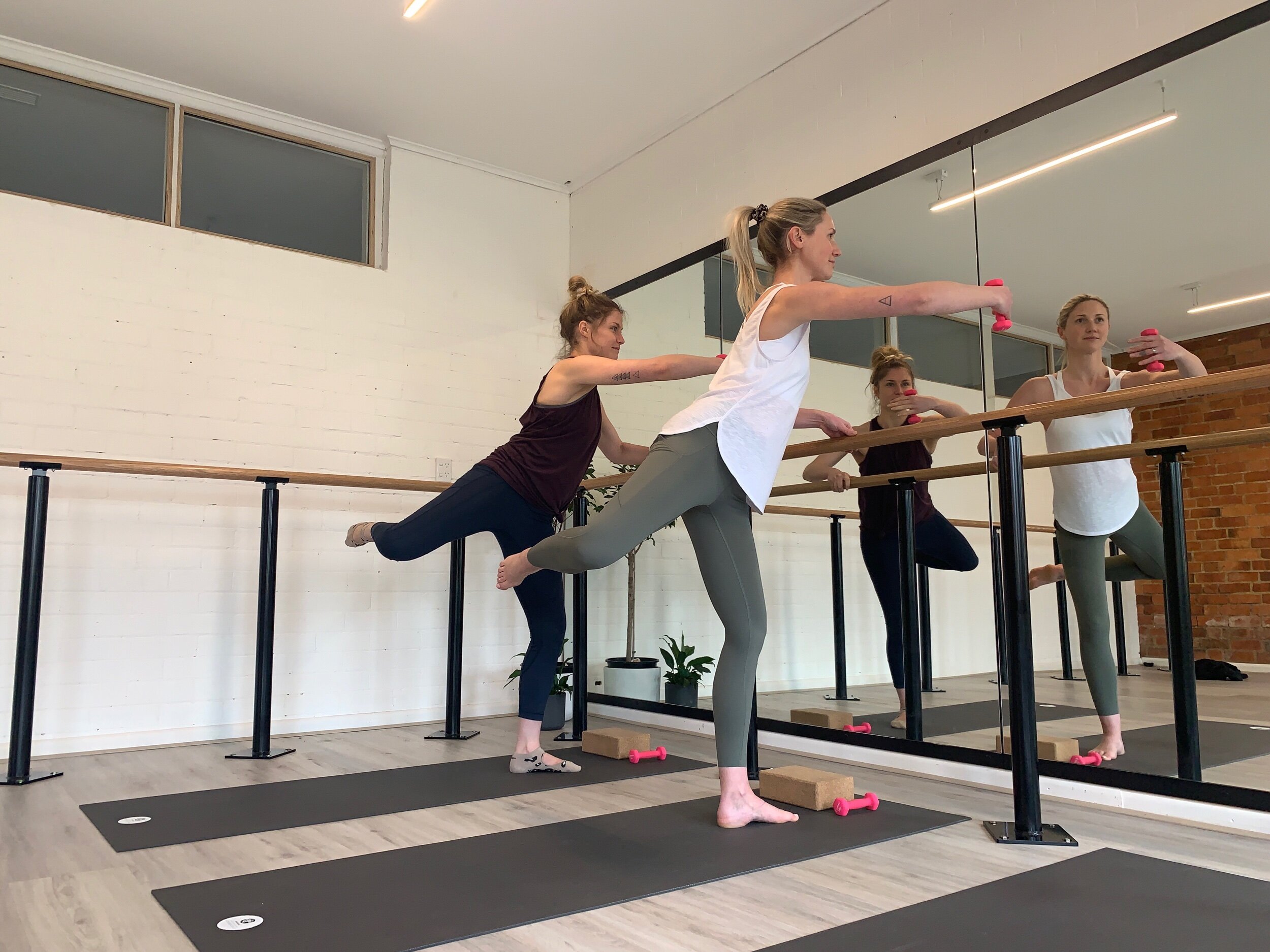 Barre
Barre classes mix elements of Pilates and Yoga using the ballet barre for balance. In each energising and targeted workout, you'll use the barre and exercise equipment such as mini-balls, therabands and small hand weights to sculpt and stretch your entire body. Barre classes use an upbeat playlist to keep you moving throughout the entire 45 minutes.
Suitable for all levels and abilities including pregnancy.